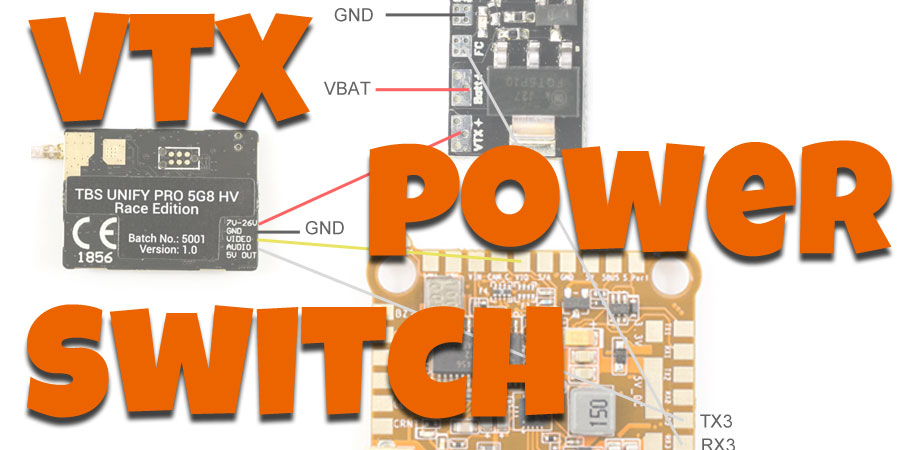 How to Turn Your VTX ON/OFF with a Switch

Dont burn up your VTX. Setup your transmitter to turn on/off your VTX power with a switch. This is a really useful feature for team racing or preventing your VTX from burning up.
Quadcopter VTX aren't designed to be sitting motionless for a long time. They need airflow to keep them cool. The Realpit board lets you turn on/off the VTX power with your transmitter when you aren't moving.
Parts Used in this Build:
Installing the Realpit is really easy. All you need is a spare UART. I'm using UART3 in this post. Connect FC on the Realpit to RX3, and TX3 goes to the SmartAudio on the TBS Unify RACE.
Batt+ on the Realpit goes to the power source. The Unify RACE can take direct battery power so the diagram below it's connected directly to the battery. If your vtx requires 5v, use a 5v source here.
VTX+ connects to the VTX power in.
BetaFlight Settings
Go to CLI and type RESOURCE, hit enter
Find the resource id for the RX side of the UART you are using. In this tutorial we are connected to RX3.
resource SERIAL_RX 3 B11
Copy and paste this:
resource SERIAL_RX 3 NONE
set pinio_box = 40,41,42,42
aux 2 40 2 1600 2100 0
resource PINIO 1 B11
Type "Save"
Go to the MODES tab and setup a switch on the User we just created to enable/disable the VTX power. Done!
Try it for yourself
The good thing about the Realpit is that it turns the power either off or on. That means if it's off, the VTX will not get any power. That means it's safe to power up your quad in the pit with the Realpit off.
The Realpit is small, cheap and easy to install. I'll be adding these to all my quads. Try it for yourself, I think you'll do the same!
If you found this post helpful, it would be super cool if you purchased the components from my
store
or purchase items from my
Amazon
links. These posts are expensive and take a loooong time to make so the purchases make it possible for me to keep making them. Thanks in advance, I greatly appreciate it
🙂