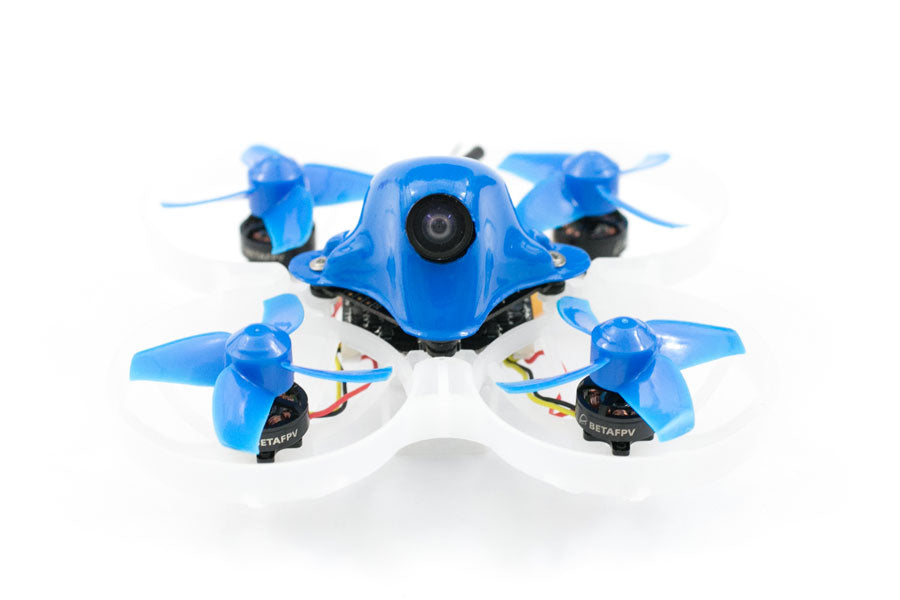 Brushless Tiny Whoop - Grandaddy Whoop BetaFPV Beta75X

The line between a Tiny Whoop and a mini quad is getting pretty blurred. Brushless Tiny Whoops are closing the gap pretty quickly.
Last year BetaFPV came out with the Beta75 PRO. The BetaFPV Beta75x is a brushless Tiny whoop that accepts 2s batteries. That means more power, more stability and lots more fun!
BetaFPV Beta75x Specifications
F4 processor
BetaFlightOSD with SmartAudio
6A/10A BLHeli-S ESC
0mw, 25mw and 200mw VTX
1103 11000kv motors
40mm 4 blade props
available in FrSky or DSMX
41g without battery
includes a 300mAh 2s battery
The brushless 1103 11000kv motors uses a c-clip to hold the 1.5mm shaft on. On previous versions of the BetaFPV motors they had issues with the bells coming off because there weren't secured on the motor. The c-clip seems to have fixed the issue.
Unlike other brushless Tiny whoops that use a single stack ESC and FC AIO board. The Beta75x is a three stack build.
The Beta75x has a 6A continuous 10A peak BLHeli-S ESC on the bottom, a F405 processor flight controller and a Z02 VTX. The camera is connected to the Z02 via a wire and not directly soldered on like most tiny whoops. The new Z02 VTX has three selectable power outputs, 0, 25 and 200mw via SmartAudio!
Handful of fun!
The biggest noticeable difference is the power! Flying the brushless tiny whoop Beta75x feels more like flying a mini quad than a Tiny Whoop. The BetaFPV Beta75 has more than enough power to fly in acro mode. You can power through turns and do simple flips and rolls without crashing to the ground afterwards.
The camera and VTX on the Beta75x are excellent. Flying in the indoor track I was getting better video on my Beta75x than on my 3″ Phuket running a TBS Unify Race!
I've been running the Tattu 300mAh 2s which will give you around 1:30 – 1:45 of flying in acro on a big track. For smaller tracks these batteries would do fine but for bigger tracks a 450mAh 2s would probably be better.
If you are looking for something you can fly in your backyard, the BetaFPV Beta75X would be the perfect quad. Check it out! I think you'll really like it.
If you found this post helpful, it would be super cool if you purchased the components from my store or purchase items from my Amazon links. These posts are expensive and take a loooong time to make so the purchases make it possible for me to keep making them. Thanks in advance, I greatly appreciate it 🙂