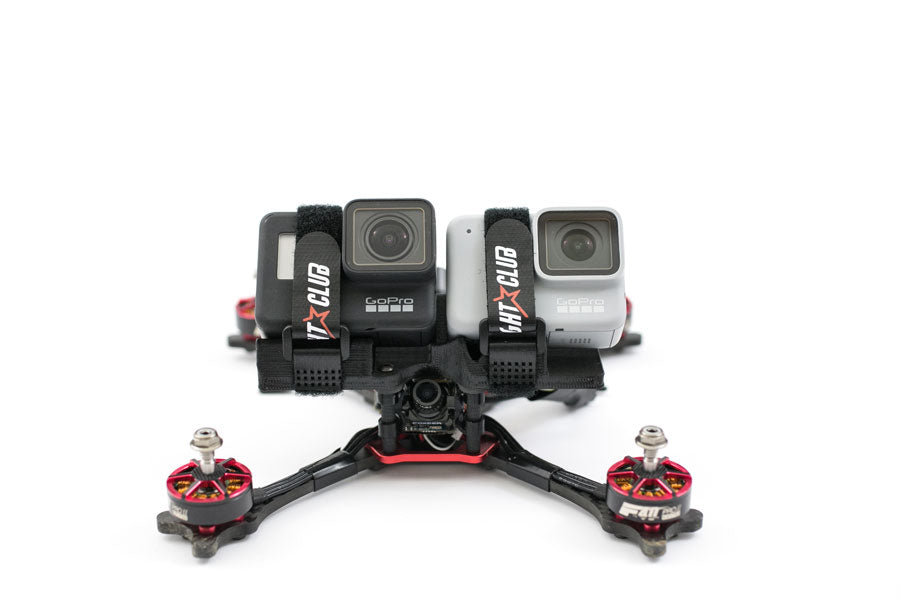 GoPro Hero7 Review Black vs White | Hypersmooth Brutal Test
Is Hypersmooth as good as they say? Keep reading to see how we pit the Black vs White in a brutal test on the in-camera stabilization on this GoPro Hero7 review.
GoPro recently discontinued the Session so if you want to use a GoPro for HD footage you'll have to use the rectangle format. They just released the Hero7 and comes in three versions, black ($400), silver ($300) and white ($200).
The silver and white are essentially the same camera except the silver adds 4k video at 30fps, GPS and $100 more. For FPV flying or any video where there is a lot of motion you want to shoot at more than 30fps for smoother video. 4k @ 30fps is a no go so I'll skip the silver.
There are tons of super detailed reviews on the GoPro Hero7 so I'm doing this review specifically for FPV flying.
The Black versions has a ton more features that wont be used in FPV flying such as 24p frame rates or external mic inputs so I'll skip it.
I wont go in detail on every tech spec and features. GoPro's site has a nice comparison on all three cameras.
Check the current price of the GoPro Hero7 Black and GoPro Hero7 White
Specifications
Both cameras are 62mm wide and 45mm high. The black is 5mm thicker than the white
Black 116g vs White 92g
Water proof housing
Voice control
2″ LCD touchscreen
Black has a front LCD screen
Both cameras can shoot HD but the White only shoots in 1 video format, 1440p @ 60fps. 1440p is more of a square format than the widescreen we're use to. To get 1080p you'll have to crop the video. Annoying.
The Black can shoot 4k, 2.7k, 1080p, 720p at 24, 30, 60, 120 and 240 (1080p only) frame rates!
Hypersmooth Test
What really interested me in the new stabilization feature in the GoPro Hero7 Black, Hypersmooth. It can be turned on at all video settings except 4k.
The White has standard stabilization that's always on.
Testing
In this GoPro Hero7 review I ran test with different settings on the Hero7 Black. The White only has one video settings so all Black footage is compared to the White 1440@60fps stabilization on.
4k@60fps No Hypersmooth
1080p@60fps Hypersmooth off
1080p@60fps Hypersmooth on
1080p@60fps Hypersmooth on with about 1/4″ snipped off the prop
1080p@60fps Hypersmooth on with about 1″ snipped off the prop
1080p@60fps Hypersmooth on with about 2 snipped off the prop
Checkout the video for the test but check out this screen shot.
Is the Hero7 Worth it?
Is the GoPro Hero7 Black worth twice the price of the White?
Forget the Hero7 White. So so image, ok stabilization, only 1 video format and $200! With so many action cameras available today it's not worth it. If you're looking for a beater camera to strap on your racing quad, this $60ish camera has 4k, 2″ touchscreen LCD and multiple video formats.
Heck yeah! The Hypersmooth is sooo good. With 2″ snipped off the prop the quad must have been vibrating like crazy! The video on the White was horrible but the Black handled it like a champ! Will you every fly with 2″ chopped off your prop? Probably not. But you know if a camera can handle vibrations that extreme you know it can handle any normal vibrations but still deliver great video.
I'll admit before this GoPro Hero7 review I wanted to talk about how expensive the Black is and go for the White. After using both cameras my opinion has switched. The Black is such an awesome camera. I didn't even talk about the other features of the Black, superphoto, live streaming or time warp time laps video. If you want the best possible video image and loads of features the GoPro Hero7 Black is the one to get.
Check the current price of the GoPro Hero7 Black and GoPro Hero7 White
If you found this post helpful, it would be super cool if you purchased the components from my store or purchase items from my Amazon links. These posts are expensive and take a loooong time to make so the purchases make it possible for me to keep making them. Thanks in advance, I greatly appreciate it 🙂