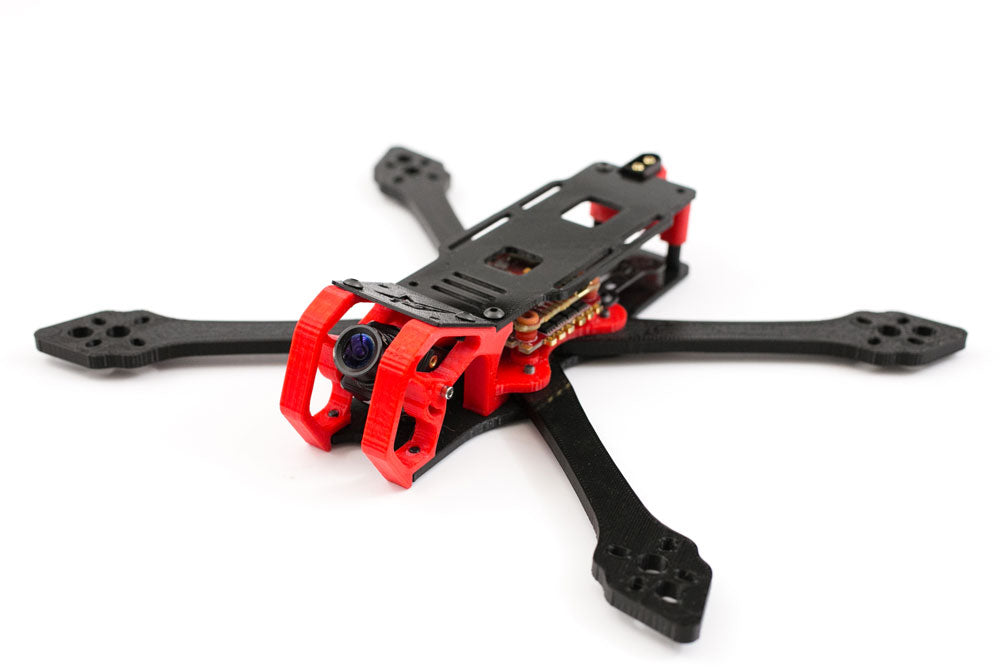 FlightClub Freestyle Frame : Bangkok!

*Pictures here are a 3D printed mockup. Final version will be carbon fiber and CNC aluminum.
Finally! It's here, the freestyle frame I've been working on! Introducing the FlightClub Bangkok
With most frames the hardest part of building a new quad is figuring out how you'll mount all the components. You don't have to worry about that with the Bangkok. Everything from the camera to the battery plug has been designed to have a spot.
Features:
230mm wide x pattern frame
It uses T700 4.5mm carbon fiber chamfered arms with 15mm width in the middle. T700 is the strongest carbon available for quad frames. It's a uni-directional carbon meaning it's stronger in one direction which is what you want for arms. Once we get the prototype and test a bit we may go up to 5mm arms, it will depend on the weight.
Right now for the prototype there will be just one arm option 5″ arms but the production version will have more arm options, like 6 and 7″

The motor pattern will fit the newer 16×16 and older 16x19mm motors

3mm 7050 CNC Nucleus plate with butter mounts for 30×30 and 20×20 components

8 threaded holes for the arms

One screw arm removal.

Arms are joined in the center so they will be rock solid

The front end will have a 7050 CNC cage that's designed to fit micro and mini cameras. There will be an A and B plate. The plates will be milled out on one side so it can fit a mini or micro camera by just flipping the A and B plates.

Built in hi-def camera mount that will fit the gopro session or hero form factors.

Option for a rear proton gopro session mount for some cool chase footage

Built in XT60 holder, SMA mount and will have rx mounting options also.

2.5mm bottom plate
Top plate will have about 100mm or 4″ of space. Enough room for up to an 1800mAh pack.
Frames that are too complex are a pain to build and even worse to repair. The Bangkok is designed to be simple, easy to build, easy to do repairs and tough!
The Bangkok will have a nucleus plate that will have butter mounts for 30×30 and 20×20 components. The fc screws will be completely isolated from the arm screws.
There will be 8 threaded holes for the arm screws. We are testing a new method of swapping arms. Each arm will have two screws but only one screw needs to be removed to swap out an arm. The other screw hole is slotted so it can slide out.
The arms will be joined in the center so it'll be rock solid when it's mounted.
Right now the arms will be made of 4.5mm T700 carbon fiber. Depending on the final weight of the frame we may go up to 5mm if needed.
Want to win a Bangkok frame?
Want to win a chance to be a tester for this frame? We'll be giving away a prototype AND a final version when they are available.
Contest details: LIKE the video and put in the comments on YouTube what you think about this frame. What do you like or dont like about this frame or any other thoughts on the frame.
Only subscribers to the YouTube channel will be eligible to win so make sure you subscribe.
We will choose a winner from the comments in about 2 weeks when we get the prototypes.
Good Luck!