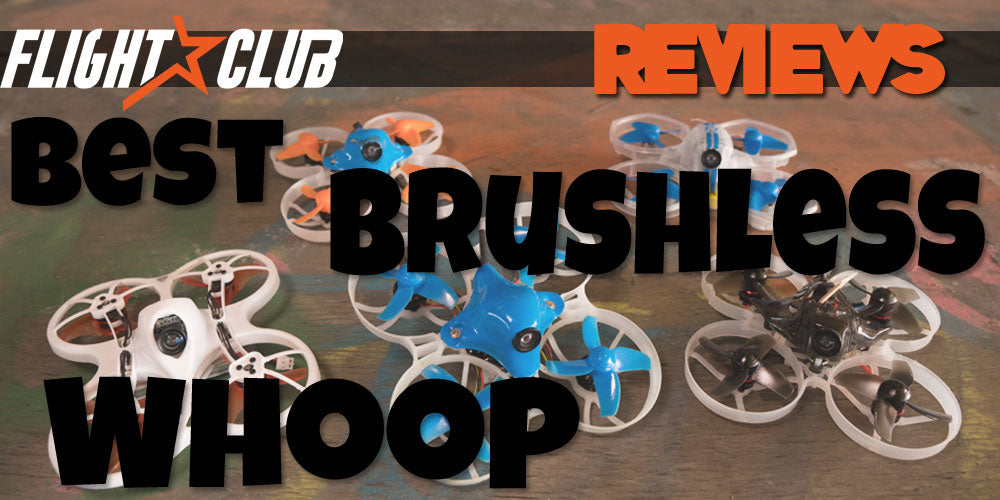 Best Brushless Whoop of 2018 : Who will be King?

What is the best brushless whoop of 2018?
Best Brushless Whoop Contenders
I've reviewed all these quads. Click on the links above to see the detailed reviews on each.
Yes this list contains 1s and 2s brushless whoops. In the 1s department there's really no competition so it's kinda pointless to do a separate post for 1s. I'll choose the best 1s and 2s in this post.
Tiny Whoop vs Brushless Whoop
When it comes to whoops there's really two kinds, Tiny Whoop and Brushless whoops.
Tiny Whoops are generally 65mm, use brushed motors and weigh around 35g with battery like the alien whoop or Beta65s.
Brushless whoops are around 75mm, use brushless motors and weigh around 40g with battery. 5 grams doesn't sound like a lot but for a tiny quad it's a big percentage of the weight.
Tiny Whoops are small and light enough to fly inside your house or a tight tiny whoop track. Brushless whoops can be flow inside your house too but it's not ideal. They are too heavy and powerful. Brushless whoops are at home flying in your backyard, park or medium sized indoor tracks.
So based on what you want in a whoop, tiny whoop if you want something to fly inside your house, 1s for a backyard flyer and 2s for bigger areas.
Lets choose the best brushless whoop
To keep this post shorter I'm going to eliminate two quads off this list.
In last place, the Inductrix Brushless based off price and restrictions. I was told by a reader that you can add your own rx to the Inductrix but it's not worth it. At $150 for just the quad, then add your own RX for $15 then add a battery for another $13. That puts you at $178 for just the quad with one battery. It's one thing to pay that much for a quad that flies really well but the performance is nothing special. Nope, you gotta go.
See the Inductrix brushless review
Fourth place, the BetaFPV Beta75pro. It's not a bad quad but being a year old the newer quads will beat it.
See the BetaFPV Beta75 PRO review.
Best 1s Brushless Whoop
EMAX Tiny Hawk is the best 1S brushless whoop of 2018. Out of all these quads, it's easily the most innovative. All the quads are pretty much the same design, a cockroach type frame, with some rubber grommets holding the 30×30 board.
On the Tiny Hawk every part of it was designed from scratch. From the upside down motors, props that surround the entire bell to the custom designed electronics and long X frame.
The only flaw on theTiny Hawk would be the upside down motors, if you plan to fly outside. Because the props are so low to the ground, it will have issues taking off in grass because the props are pretty much in the grass. Take that into consideration if you plan on flying outside a lot.
The Tiny Hawk would be my choice if you want something that could be flown indoors in a small tight area and can still be flown outdoor. If you plan on flying outside more i'd go with one of the 2s quads below.
Check out the EMAX Tiny Hawk review.
King of the 2s Brushless Whoop
Now on to the big boys. Unless you have some mad skills to fly these in your house, these are both designed to be flown in bigger areas like a bigger indoor track, your backyard, park or an abandoned warehouse.
Sure you could fly them in your house but it's like buying a Ferrari and driving it around in first gear in the parking lot. They just aren't designed for that.
The Mobula7 is easily the best value of all of these quads. For about $100 bucks you get the Mobula 7, 4 batteries, a spare set of props, a screwdriver, spare screws, a prop remover tool and a charger!
Weighing in at just 26g it's the lightest quad out of these 5, even lighter than the 1s whoops. Super light quad with 2s power means this thing is fast and fun!
The Beta75x is more like a mini quad than a whoop. It's built like one too. It's the only whoop in this bunch that uses a triple stack build, esc, fc and VTX. it also uses some massive motors for a whoop, 1103. you can probably fly a 2 inch with these motors
At $140 it's the most expensive whoop in this group. but like it said it's built more like a mini quad than a traditional whoop so maybe you can justify the price.
The one I have is an earlier version. I was told by BetaFPV that the new versions will come with 10A up from 6a 4in1 esc, a new camera mount and a programmable RGB LEDs.
I'm basing these issues off my earlier version 75x. I have two issues with the 75x. one is the camera mount i have and two the location of the battery pads, both are easy fixes.
The original camera mount that came with the quad was made of a non flexible material that easily broke on impact but in the newer models they are using a different mount with a stronger material so it should fix the break issue. Or you can just print a mount out of tpu with files on easily found online.
The other issue is the battery pads. They are located too close to the USB connector. If you don't install the battery cable correctly, you can easily short the battery. From the factory it came installed soldered towards the front then bent to come out the back. this may be the cause of some Beta75x users complaining the fc and esc stacking pins aren't seating properly. Bending the power cable this way could make the wire too thick and push the fc up.
By installing the battery cable soldered up towards the front and lay the wire across the board will fix both issues.
The Best Brushless Whoop of 2018
There can only be one king. It was a hard choice but based off my testing, observations and personal preference, my choice for 2018 best brushless whoop is the Beta75x. I love this thing.
The Mobula 7 is crazy fast but it just doesn't fly as well as the Beta75x. The 75x feels more like a mini quad than a whoop. Good power, smooth, stable and easy to control.
The Mobula 7 is way cheaper though. If you have goggles and a transmitter already, for about $100 you pretty much have everything you need to start flying. The Beta75X is $140 for the quad itself, then you add two 450mah 2s packs for $12 so that puts you at about $152 then you need a charger too. I use a XT30 parallel board.
I'd probably recommend the Mobula 7 for beginners due to the value and durability. The light weight makes it more able to take crashes and keep going.
Want to win a Mobula 7 or Beta75X?
Head over to the video for the Mobula 7 and Beta75x giveaway!
If you found this post helpful, it would be super cool if you purchased the components from my store or purchase items from my Amazon links. These posts are expensive and take a loooong time to make so the purchases make it possible for me to keep making them. Thanks in advance, I greatly appreciate it 🙂