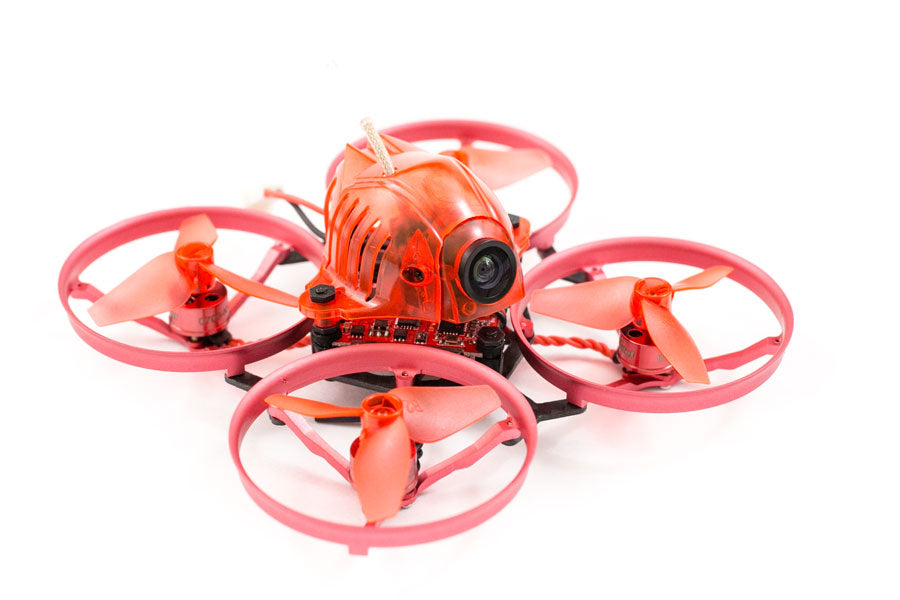 Brushless Tiny Whoop : Micro Camera Drone Snapper7
Brushless Tiny Whoop type micro camera drones have come a long way this year. The early brushless Tiny Whoops like the BetaFPV Beta75 were plagued with problems. Mostly with the motors bells falling off. The problem with those motors were the shaft and how they are secured to the motor. The motors on the Happymodel Snapper 7 have fixed that.
Specifications
98.5mm
30g without battery
F3 Flight controller
Runs on BetaFlight
BetaFlightOSD
AIO 5A ESC running BLHeli-s
Dshot600
Turtle Mode!
SE0703 19000KV brushless motors
Carbon fiber frame
CNC aluminum pro guards
Available in Flysky or FrSky rx
40mm tri-blade props
48 Channel 25mw VTX
120 FOV camera
Includes 3.8v 450mAh battery
USP LiPo charger
Hobbymodel Snapper7 Features
The Happymodel Snapper 7 has excellent build quality for a brushless tiny whoop. Most tiny whoops use a cheap plastic body. Unlike all the other brushless Tiny Whoops I've flown, the Snapper 7 uses a carbon fiber body with aluminum prop guards. Because of this, the body feels really stiff and firm. I was skeptical on how well the CNC aluminum prop guards would hold up but after crashing it over and over, rest assured, they work well. They do such a good job the props still look brand new.
Most of the other brushless tiny whoops I've flow, the motors were horrible. The bell would always fall off after a while because the shaft isn't secured properly on the motor. The motors on the Snapper7 have a c-clip that holds the shaft in place. So far, the motors have held up for me.
The Snapper7 micro camera drone comes with a 48 channel (6 bands, 8 channels each) VTX. This lets you race with up to 8 of your friends together. The camera lens has a FOV (field of view) of 120 degree. I found this wide enough to fly indoors but not so wide that you get that dizzy fisheye look.
Because the Snapper7 runs on BetaFlight and BLHeli-s, it uses on DShot600 ESC protocol. That means it has Turtle mode! Turtle mode is a feature that lets you reverse certain props to help the quad flip if you land upside down.
It includes a 450mAh 1s pack and a simple USB charger. I use this 6in1 charger and it works great. It takes power from any battery with an XT60 plug and can charge 6 1s batteries at once. You can select the regular 4.2 or HV 4.35v. You can even select the charge current .2C or .6C. It has a 5v 2.4A USB output so you can charge your phone or GoPro.
Flight Performance
The Snapper7 weighs about 30g without battery. Compared to the Beta75 Pro 75 which weighs 28g. The slightly heavier quad doesn't have the vortex effect as the lighter Beta75. What I call the vortex effect is on micro quads when you fly too close to objects like walls, the sucking effect of the props tend to pull the quad towards the wall and end up sticking to walls or objects. I found that the Snapper7 isn't effected by that as much. Which is great when you fly in your house as much as I do. It lets me creep under tables, chairs and close proximity objects searching for my dog. My dog hates it, haha.
The extra weight also makes the Snapper7 more stable during outside flights. It's powerful enough to fly outside in light winds and do simple flips/rolls. The weight also reduces the amount of wobble when descending.
The combination of the powerful brushless motors and slightly heavier weight of this micro camera drone feels closer to a bigger quad than a micro tiny whoop. The past brushless tiny whoops I've flown lacks the stability of the Snapper7. The biggest difference can be felt after a flip or roll. The Snapper7 feels solid and locked in after a flip/roll. Most other brushless tiny whoops wobble like crazy trying to recover after a flip/roll.
If you found this post helpful, it would be super cool if you purchased the components from my store or purchase items from my Amazon links. These posts are expensive and take a loooong time to make so the purchases make it possible for me to keep making them. Thanks in advance, I greatly appreciate it 🙂