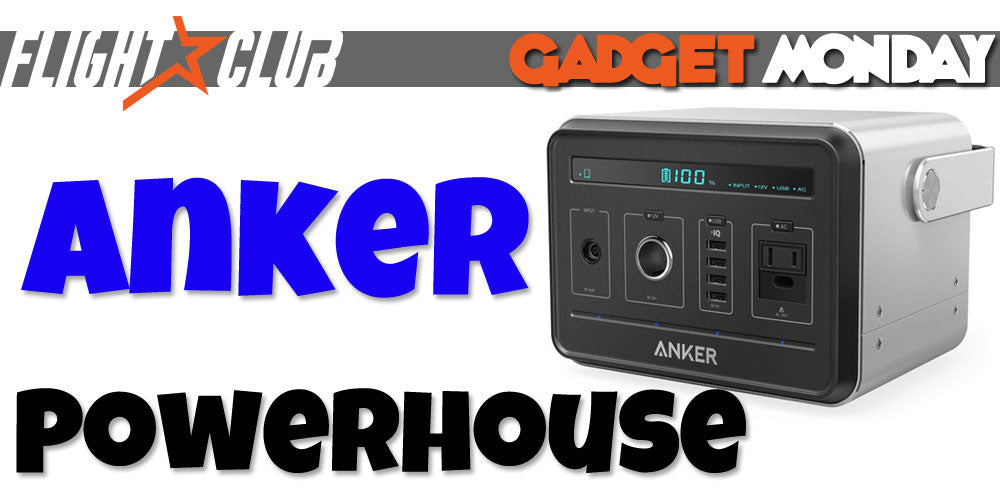 Anker Powerhouse : All in One Power Supply
The Anker Powerhouse is an all in one solution to your power needs. It uses a 120A Lithium ion battery rated for 434 watt hours and has different types of power outputs, 4 5v/6A USB, 12V cigarette plug and 110v AC.
Check current price – Anker Powerhouse
The 120Ah battery has enough juice to power all your electrical needs for a full day of flying. On a typical summer day of flying you can plug in a blower fan to keep you cool and blow away mosquitoes, charge all your USB powered devices, plug in an LED light for working on your quad at night and charge your LiPo batteries.
Charging Power Options
The Anker Powerhouse has an MSRP of $500 but Anker has sales throughout the year for $150 off. At $350 it's still an expensive purchase but if you compare to the options, it's not that bad.
For a full day of flying you'd need at least 10 LiPo battery packs. At an average of $30 a pack that's $300.
A cheap gas generator will run you at least $300 not including gas. But then you have to lug around a gas can and a stinky generator in your car.
Or you can charge your batteries the old school way by using your car battery. It's hot under the hood and you can kill your car battery.
The Anker Powerbank isn't only for charging lipo batteries. It can serve as a backup source of power in case of weather emergencies. There's been times where a storm knocked out the power and we have to use the Powerhouse to give us light and keep our phones charged up.
Ladies, your FPV obsessed man would love to find one of these under the Christmas tree this year. Make his year and get him an Anker Powerhouse 😉
If you found this post helpful, it would be super cool if you purchased the components from my store or purchase items from my Amazon links. These posts are expensive and take a loooong time to make so the purchases make it possible for me to keep making them. Thanks in advance, I greatly appreciate it 🙂