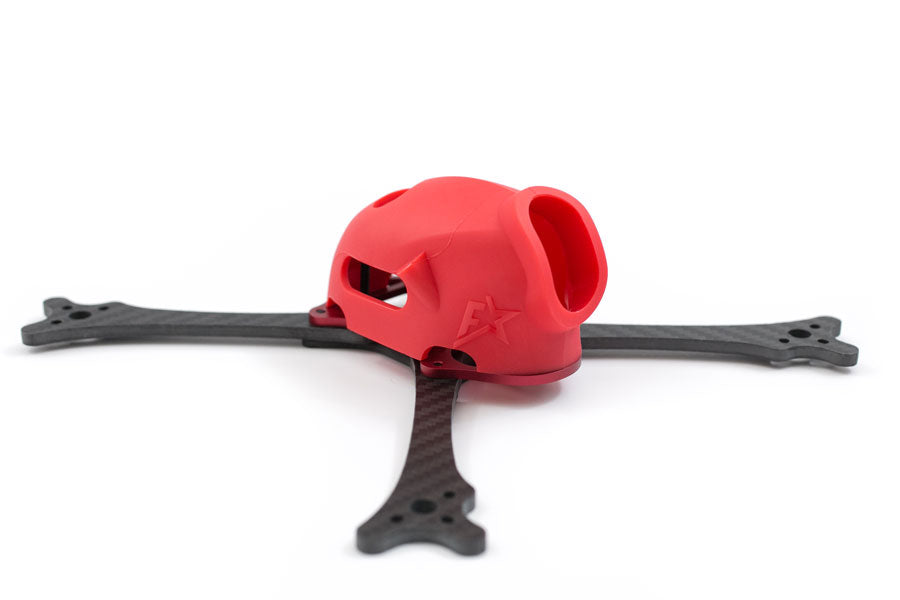 FlightClub Tokio PRO
The Tokio was created because I was tired of breaking parts. The injection molded canopy offers protection for the sensitive electronics and camera. Super wide arms were durable but not invincible. Bad part about the Tokio is that it's unibody meaning the bottom frame is one single piece. If you break one arm you have to replace the entire frame.
PROton was designed to be a versatile frame that lets the builder customize the frame to whatever style they want with the skeleton or canopy mode with easy to replace arms. PROton is a race frame so the protection is not as good as the Tokio.
Introducing the FlightClub Tokio PRO, it takes the best aspects of the Tokio and PROton to create a durable and versatile frame.
Tokio PRO Highlights
Tokio's TPU injection molded TPU canopy
Custom Aluminum CNC nucleus plate
Butter mounts to eliminate flight controller vibration issues
Threaded holes for the arm screws for simple arm replacements
designated spot under the first stack for the receiver
uses PROton arms so it can do 5″ race, 5″ practice, 5″ SX, 5.5″ and 6″
The canopy on the Tokio is injection molded out of TPU so it's virtually indestructible. It houses all the sensitive electronics and has ample protection for the camera.
Like the PROton, Neutron and Bangkok (coming soon), Tokio PRO will have a custom 7075 CNC aluminum nucleus plate. It allows the Tokio canopy to be used with PROton arms.
The nucleus plate will have butter mounts for 30x30mm components. (We will have an adapter that will let you use 20x20mm components on 30x30mm mount holes soon.) Butter mounts are custom silicon grommets that completely isolate the fc stack screws that virtually eliminate vibration caused issues.
No need for pliers or any of that mess to swap arms. The nucleus plates have 8 threaded holes for the arm screws. Simply screw the screw directly into the plate without the need for additional nuts.
Tokio PRO will use the same arms as the PROton so it can adapt to whatever type of build you want.
The Tokio has always been my go to frame for backups because it always flies. It's also such a great feeling when you can fly, crash into stuff and be more confident that nothing will break.
Now you can confidently fly and know if an arm breaks it's a super inexpensive and easy swap.
Frame Give Away!
Head over to our YouTube channel for your chance to win a Tokio PRO!
If you found this post helpful, it would be super cool if you purchased the components from my store or purchase items from my Amazon links. These posts are expensive and take a loooong time to make so the purchases make it possible for me to keep making them. Thanks in advance, I greatly appreciate it 🙂