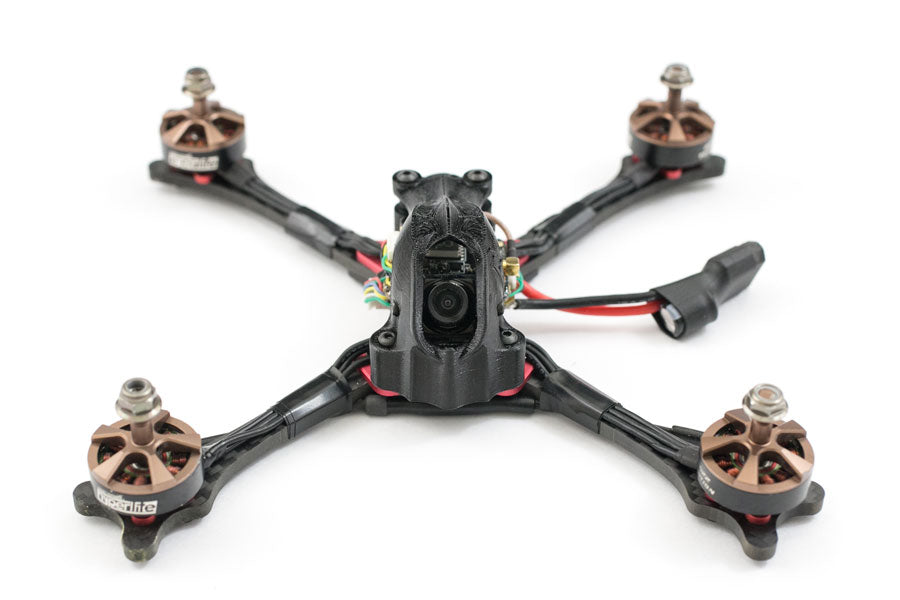 FlightClub Neutron Release!
FlightClub Neutron Race Frame
Finally, the Neutron is ready to go!
The Neutron is a shrunk down version of the PRoton designed specifically for the 20x20mm components. Just like the PROton, the Neutron is loaded with features.
Features
Mini Nucleus Plate – CNC milled plate out of aluminum
Threaded motor screw holes
Chamfered and countersunk bottom plate for a completely flat bottom. Chamfered edges help prevents broken battery straps.
Gap under the fc stack for the battery strap.
4.5mm premium carbon fiber arms
Skeleton or Hybrid canopy pod mode
Skeleton mode has a GoPro mount
Includes flexible TPU mounts for a micro camera
Includes a TPU antenna mount designed for the AXii but can take any SMA antenna.
FPV Camera angles from around 30 – 80 degrees
The mini Nucleus plate is an aluminum CNC milled plate that holds the Neutron together. It has the ability to be built as skeleton mode (4 standoffs with a carbon fiber top plate) or hybrid canopy pod. The top plate on the skeleton top plate has the same slot on the PROton top plate so it can mount the PROton GoPro mount. No zip ties or velcro needed for mounting a GoPro. The mount slides into the slot and the two front standoffs screws lock it into place.
Butter Mounts are custom silicone grommets in the mini Nucleus plate that completely isolate motor vibrations from reaching the flight controller. Having a clean vibration free signal to the gyro will increase your chances of a ultra smooth flight. Permanently soft mounting the stack also dampens shock from crashes.
The holes for the arm screws in the mini Nucleus plate are threaded. It makes mounting and changing arms easy. Simply screw the flat head screws right into the plate. No need to mess with nuts to swap arms or need pliers.
20x20mm Components
The Neutron is designed for 20x20mm components. The major advantage in using 20x20mm components is for size and weight savings. These two quads below are using the exact parts except for the stack. The PROton, on the left, is using the RaceFlight Bolt32 with RevoltOSD and weighs 282g. The Neutron is using a 20×20 RaceFlight Spark v2 ESC with MillivoltOSD flight controller and weighs 248g. The rest of the quads are using the same camera, VTX, antenna, and motors. The difference in weight is 34g. That's like flying around with 1 less motor.
Differences between PROton and Neutron. PROton on left, Neutron on right.
Size – PROton (5″ race) is 215mm vs Neutron (5″) 205mm. A 10mm difference doesn't sound like much but Neutron feels much smaller.
Weight – PROton (skeleton 5″ race with TPU camera and VTX mount) is about 78g, Neutron (skeleton 5″) is about 65g
The two frames are very similar in specs but they fly pretty different. Being just 10mm smaller and frame weight 15g less, the Neutron feels much more nimble. Able to turn on a dime with instant throttle response.
Suggested build
I'm using TBS Crossfire in two of my Neutrons for pretty much experimental purposes. For a small race quad, there's really no difference in using a regular FrSky rx such as the XM+ or R-XSR. I have an XM+ in my 3″/4″ Neutron and it works fine.
Motors choice, this would depend on your flying style. I've built one with the Tmotor F40 PROII 2400kv. It flew great but was too much power for my limited skills. My favorite on this setup are the 2205 Brother Hobby. This makes for a 230g (no prop or battery) quad. I have 2552kv in one and 1750kv in the other. Yes that one is running 6s. Even though the Ori25A 4in1 is only rated for 4s, it does run 6s. You just have to be careful with the motor and prop choice. This setup runs fine with 1750kv and up to 4.3 tri blades. I've tried this setup with 2204 1960kv and it didn't work. The quad will desync on hard punchouts and flip out. Same with 1750kv on 5050 triblades.
That's the major flaw with 20x20mm components. Since they are still fairly new, there isn't an ESC rated for 6s yet. The FlightOne Spark32 is rated for 6s but I don't consider that a true 20x20mm ESC. That ESC is massive! It's actually bigger than the full sized 30.5×30.5mm Aikon AK32! So no, the Neutron will not fit these "20×20" massive ESCs. Given time, 20x20mm tech will get better and we'll have a 6s rated ESC that's actually 20x20mm.
I have another Neutron using the HGLRC F440 stack rated for up to 5s and Brother Hobby Avenger 1507 3200kv motors. This thing screams on 4″ props!
Who is the Neutron for?
If you want big motors on 6s for massive power, go with the PROton. The PROton is bigger, heavier thus stronger so it can handle the extra weigh associated with very powerful components. The Neutron is for people who favor precision over power. Because it's designed for smaller electronics, the AUW weight of the quad will be around 30g lighter than a similar full sized quad. This will make the quad turn faster and generally react faster. It uses less power also. I run 4s 1300mah and 6s 1000mAh with plenty of power left after a race.
The Neutron will have 4″ and 3″ arms available. For people who like to tinker and build cool quads, the Neutron is right up your alley.
Pre-Orders!
Pre-orders for the Neutron will start Thursday June 14th at 9pm central time. At the time of release, only the 5″ arms will be available. 3″, 4″ and 5″ SX arms will be available shortly. The Neutron body is the same for all configurations so switching from a 5″ to 3″ is simply swapping out the arms. The hybrid pod will be available in 8 colors (black, red, blue, white, grey, purple, orange and green). Mini Nucleus plates will be available in anodized black, red and purple. If you want the anodize color of your choice, don't wait cause each color is limited.
Set your alarm clocks for 9pm, June 14th! Get a Neutron! You'll love this beauty.
Want to win a Neutron? All you have to do is share this link: FlightClub Neutron
Then put in the comments below "DONE"
Next Friday I will randomly choose a contestant to send them a free FlightClub Neutron!