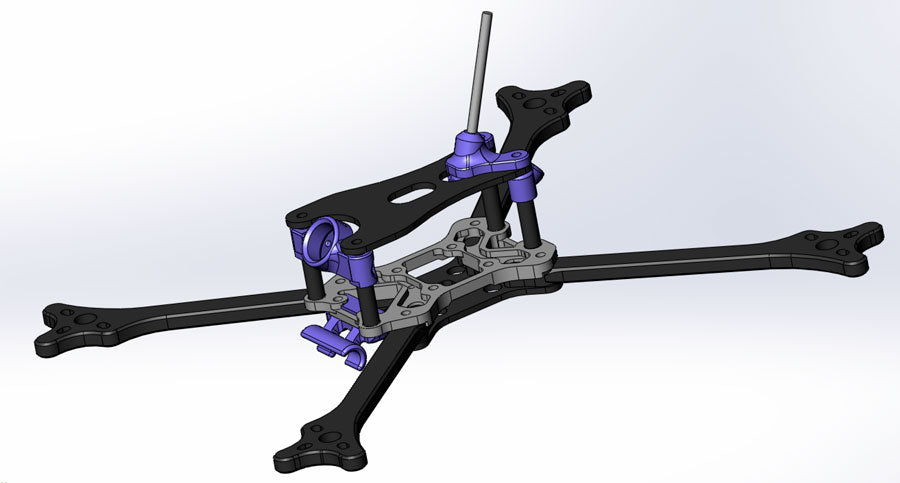 Captainvanover's New Race Frame : PROton-R and Neutron-R
Having a pilot like Alex aka Captainvanover testing these frames is invaluable. If you've seen him fly, he pushes equipment to the limit and often times beyond. I've seen him crash and disintegrate quads. That's why I wanted him testing these frames.
Alex joined FlightClub while I already had the prototypes of these frames being made. After testing both frames we've made some tweaks based on his and some of the fastest pilots in the world feedback.
All frames shown here are the prototypes. The final version will have slight tweaks but nothing major.
My Build List 240g
Captainvanover's Build 250g
Hybrid Geometry
They hype is real. Hybrid arm configuration feel so good! Hybrid geometry is having stretched X in the front with true X in the rear.
The Nucleus plates on both the Neutron-R and PROton-R are hybrid geometry, SX in the front and true X in the rear. Since both of these frames are pure race frames, hybrid is the only configuration available.
The advantage in having the hybrid geometry designed into the channels of the arms is that you can use the same arms for the front and back. Both the Neutron-R and PROton-R use the same arms.
There are two arm configurations available for these new R frames, 5″ hybrid and true hybrid. 5″ hybrid is using the same 5″ arms for front/rear and true hybrid is using 5″ arms in the front and 6″ arms in the rear.
Alex and I personally will be using the 5″ hybrid configuration. It's nice to just need to carry one type of arm instead of two different types.
If you haven't tried hybrid yet, do yourself a favor and try it. Everyone I know who has tried it is now flying it.
Rock Solid Arms
We listened to feedback from customers and pilots and fixed the issue in the Neutron and PROton. The arms on the Neutron-R and PROton-R are rock solid with zero wiggle. Of course the CNC plate has threaded holes for the arms so no need for press nuts or screwing them into aluminum standoffs.
The Nucleus plate now feature arm slots that hold the arm in place with just one screw. We made sure to make the arm channels extra beefy so there's no chance of them breaking or bending. They are now a whopping 4.5mm thick when strength matters. The original PROton and Neutron's nucleus plates are 3mm.
No more Butter Mounts
The Butter Mount has been a standard feature in most of the FlightClub frames. It was a great feature when flight controllers didn't have built in soft mounts. Now, nearly all flight controllers now come with built in gummies for soft mounting.
Feedback from test pilots say that under hard throttle and turns, the double soft mounting actually caused more oscillations.
Under several occasions, two identical quads, one with Butter Mounts, one with hard mounted flight controller screws, the quad with Butter Mounts showed more oscillations under hard throttling and corners. The quad with hard mounted screws didn't have any issues.
These issues are only present under extremely hard flying.
As much as I love the Butter Mounts, it's time to say goodbye. If they don't make the frame better, it's got to go. The Neutron-R and PROton-R now have 4 threaded holes in the Nucleus plate for the stack screws. This makes building easier and wont require a locknut to secure the stack.
New Top Plate
The new top plate now features two accessory slots. One of the flaws of the original top plate is the accessory slot. It required a bigger hole to be cut out to accommodate the GoPro mount.
The red top plate is a 3D printed mock up. Production version will be carbon.
The new top plate now uses two small ovals. This requires less cutting of carbon making the top plate stronger with negligible weight gain.
These two small ovals make it easy to mount a HD camera or the new Airbender turtle stick.
There's now a dedicated Crossfire Immortal-T mount that bolts on to the Nucleus plate.
Both R frames can be built as skeleton (top plate) or canopy pod. The pod with fin will add about 10g.
More Room
Both the Neutron-R and PROton-R will now be slightly longer. This opens up space behind the camera. More room means it's easier to build and more room to crash!
Neutron-R vs PROton-R
The Neutron is designed for 20×20 and PROton is 30×30. The weight difference on the frames is roughly 8g (70g vs 78g).
Neutron-R – approximately 70g, 216mm with 5mm 5″ hybrid arms
PROton-R – approximately 78g, 227mm with 5mm 5″ hybrid arms
Why not have a frame that can do both 20×20 and 30×30? That's because if you put 20×20 components in a 30×30 frame, you wont be getting the full benefits of running smaller 20×20 components.
This build weight difference is roughly 20g when you factor in the frame weight difference and smaller electronics.
The Neutron-R will be lighter and more nimble due to the smaller size.
We listened to customers and pilots feedback and came up with a solution for every problem we could think of. Every part of these frames are designed to have maximum functionality. Keeping what's good and discarding what's not.
These two new frames are the culmination of everything we've learned the past 3 years designing, manufacturing and testing frames. They are hands down the best frames we've every made to date.
Try it for yourself. Pre-orders for these frames will next week. Stay tuned on the website and IG as we will be having some pre-order specials you'll want to jump on.