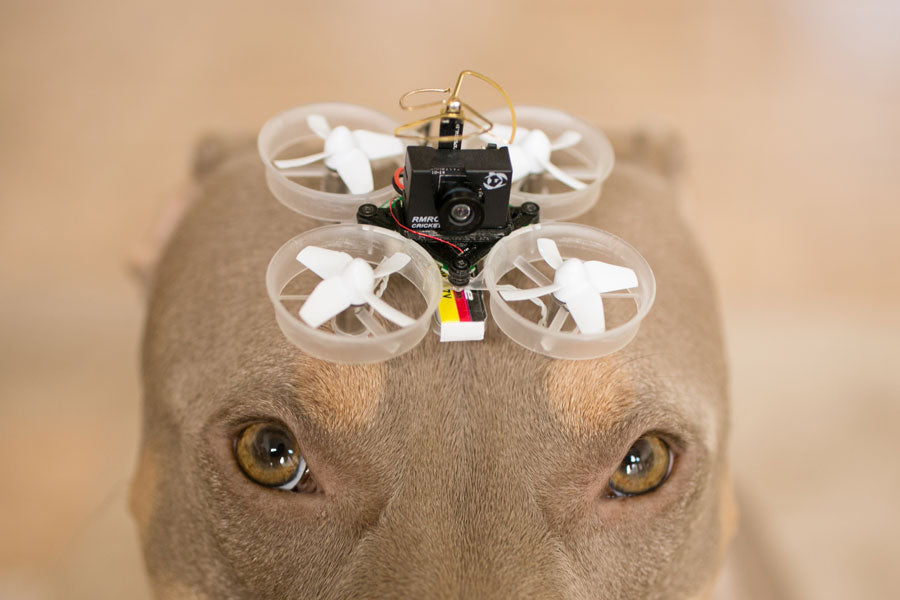 Tiny Whoop Build Guide and Review
Tiny Whoop Build
Tiny Whoop is about the most fun you can have with your clothes on!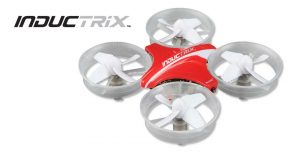 What is a Tiny Whoop? Tiny Whoop is just a Blade Inductrix modified with a small FPV camera and video transmitter. The great thing about thing about the Tiny Whoop is that it's tiny, light and protected. You can fly around your house without worrying about damaging or hurting anything. Including chasing your dog around, racing your friends in your house or just tuning up your skills.
Things to do with a Tiny Whoop
Chase your dog (my favorite)
Get a 12 pack, some friends and race around your house. If you crash, take a shot of beer. You will crash a lot.
Search and destroy your pets.
Explore your house.
Annoy people
Build a tiny racetrack in your house
This is great when you want to fly but the weather is not cooperating. Rain, snow, hurricane, hot as hell…no problem. Fly your Tiny Whoop inside your house while sitting on the couch!
Parts Needed to build a Tiny Whoop
Required
Blade Inductrix BNF or Inductrix RTF
Micro camera and vtx combo (see below)
Transmitter
If you want to fly FPV you need some goggles or monitor. (see below)
A lot of free time because you'll never want to stop flying.
Optional
Monitor
If you already have goggles with a 5.8ghz receiver, great! You're ready to go. If you don't have goggles, a cheaper alternative would be a monitor with an built in receiver. I have this Eachine 7 inch 5.8g 32CH dual receiver monitors and it works great.
Transmitter
If you are running a Spektrum transmitter all you have to do is bind it to the Tiny Whoop.
If you already have a Taranis you can get the OrangeRX DSMX DSM2 2.4Ghz Transmitter Module that will let you bind to the Inductrix. If you can't get the module (they are hard to find right now) you can get the RTF (ready to fly) version of the Inductrix that comes with the controller.
You'll need a micro camera/vtx combo. I got the RMRC Cricket because that's the only one that was in stock at the time. The Tiny Whoop is so hot right now these parts are hard to come by. Pretty much any one of these 5.8ghz micro camera/vtx combos will work. Just make sure it supports a band that your video RX can support. The Cricket, FX797T and Quanum are pretty much the same camera just rebranded. They are all 5.8Ghz, 25mw and has 40 channels. The image quality is surprisingly good for such a tiny camera/vtx package.
Battery
The stock 150 mAh battery will give you around 3 min of fun. It's highly recommended to get the bigger 205 mAh 25c 1s batteries. Lumenier just released their own line of Tiny Whoop batteries. With these batteries running the stock motors I get between 6-7 min runtime! They are so cheap I would get at least 4 of them and combine it with a 4 port charger. I have a E-Flight Celectra 4 port I got a long time ago so I just use that, which works fine. It charges the 205 mAh in about 10 minutes. But if I were getting a new charger I would go for the Hitec/RCD X4. This bad boy lets you select the charge rate and can charge 4 different types of 1s battery connectors. The Celectra can only charge the E-flite plug batteries. With 4 205 mAh batteries and a 4 port charger you can fly nearly non stop or until your dog is too tired to run.
Motors
If you want you can upgrade the motors. I got the upgraded motors but haven't installed them yet. I'm having so much fun with the stock setup with the 205 mAh batteries and 6+ minute runtimes. I'll replace them once my stock motors give out.
How to build a Tiny Whoop
Building a Tiny Whoop is so easy. All you have to do is solder on the camera/vtx combo and mount it on the Tiny Whoop. That's it!
Cut the power wire on the camera/vtx about 1.5 inch from the PCB.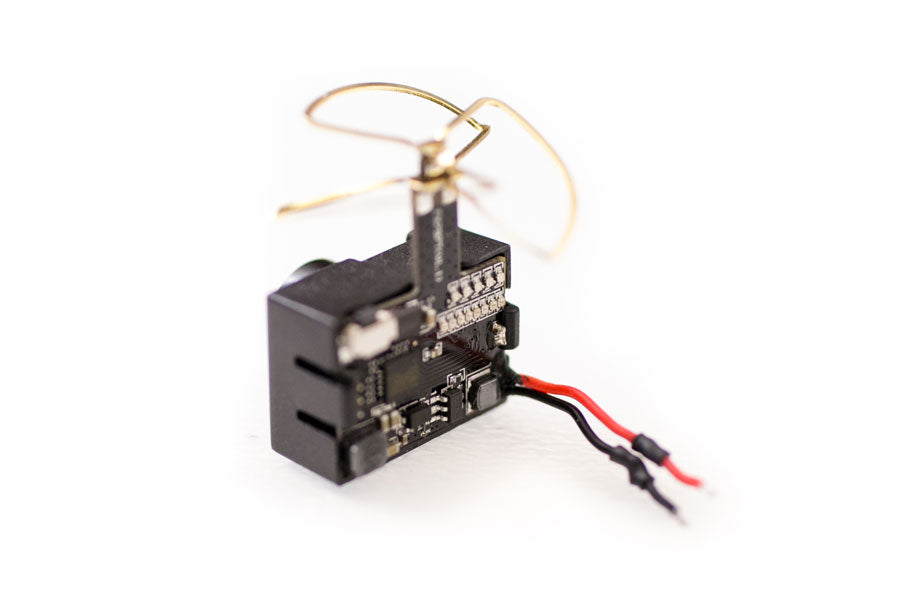 Identify the positive and ground leads on the board. The negative is the one closer to the edge of the corner screw.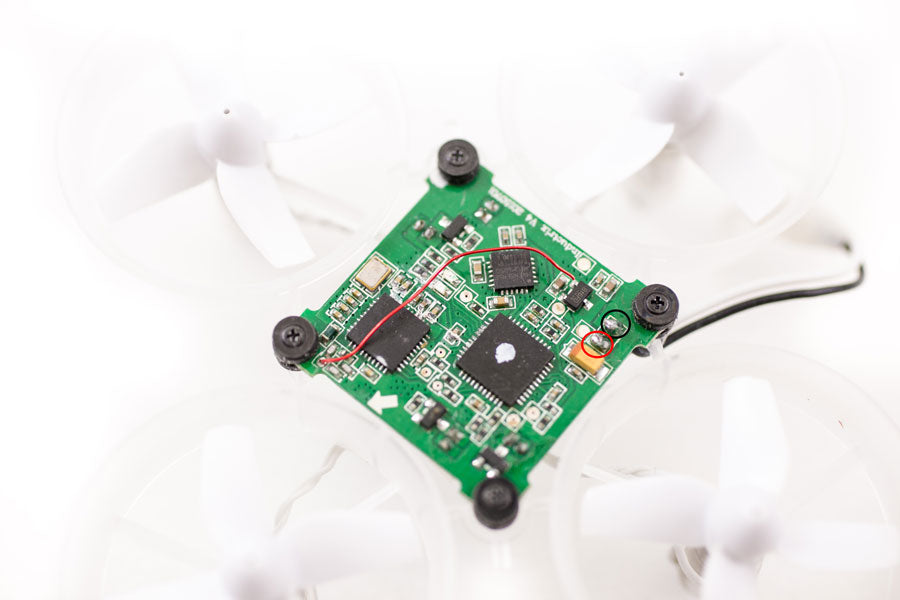 Solder the wires on the positive and negative.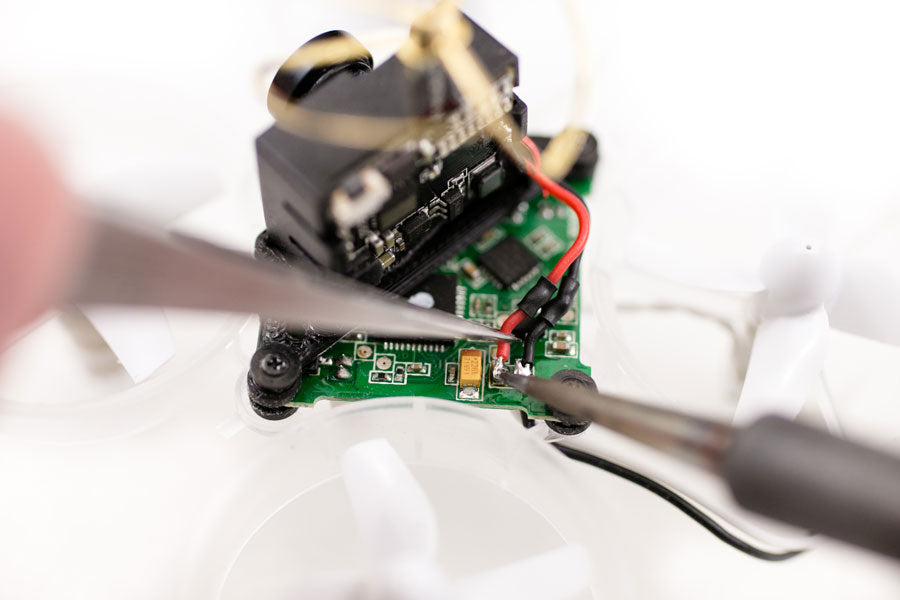 Mount the camera/vtx on the Inductrix. The quick way is to use rubber bands to keep the cam/vtx on the board. I started with that but it always shifted too far back to the point where I saw too much of the props and board. That covered half the screen and made it hard to fly. Or it just fell off. So I designed a custom 7 degree mount that tilts the camera and shifts the camera slightly forward. It has a tiny hole on the right side to thread the RX antenna and integrated toothpick holder. This helps protect the VTX antenna when you go upside down. Then I just use double sided to secure it.
Taranis Setup
If you got the RTF version with the controller you are ready to fly. If you are using the OrangeRX for the Taranis here's what you do.
Setup a new model as usual. Turn off the internal RF and change External RF to PPM, CH1-8 AND 22.5ms 300u.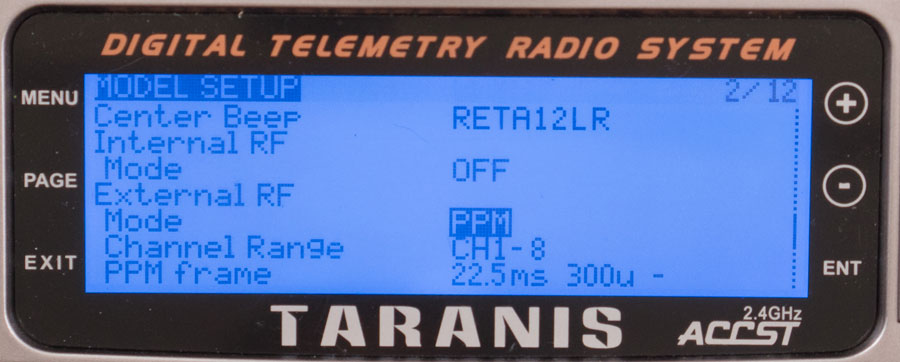 Scroll to page 7/12 Servos. Reverse channel 2 and 4. If not your Tiny Whoop won't react correctly to your stick controls.
The Tiny Whoop Inductrix has two modes, angle and rate. Here's how you setup your Taranis to change modes.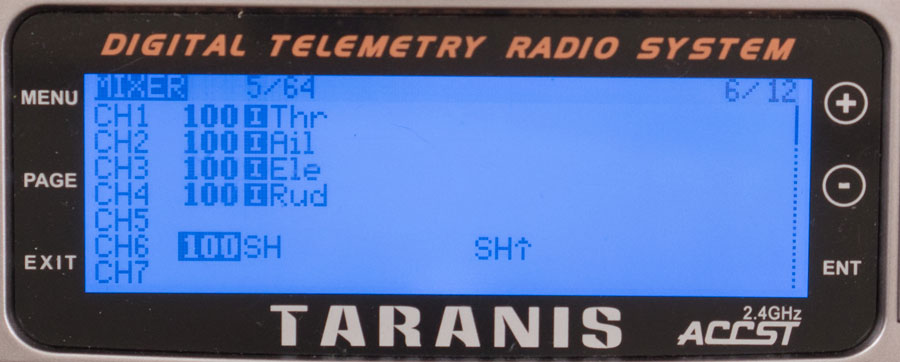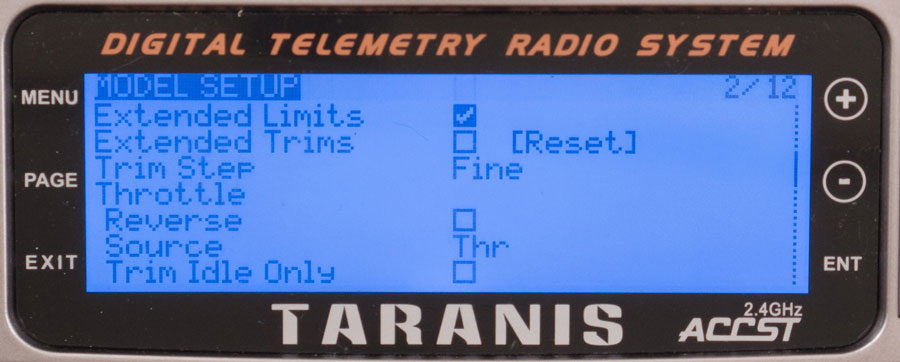 In channel mixer, set channel 6 source SH and set switch as SH(UP)
In the model setup screen check "Extended Limits"
In the servo screen change the upper limit of ch6 to 125 and reverse the direction of ch6
Now when you flip the SH switch, it will toggle the flight modes. The led will go from blue (stability mode) to red (rate mode).
Bind the Tiny Whoop
To bind the Tiny Whoop to the Taranis:
Plug in the battery on your Tiny Whoop. Led will flash.
Press and hold the bind button on the OrangeRX while powering on the Taranis.
Taranis will beep after about 5 seconds, wait a few more seconds and the LED on the Tiny whoop will stop flashing and you'll see a blue solid light.
Time to have fun!
The Tiny Whoop handles surprisingly well for a quad that's not designed to carry a camera and vtx. It actually has a very good feel and can turn on a dime. I guess when the quad only weighs 25g there's not a lot of inertia to make the quad drift. This thing is so much fun!
For about $100 bucks you can the the Inductrix and the camera/vtx combo. What are you waiting for. Go get your whoop on!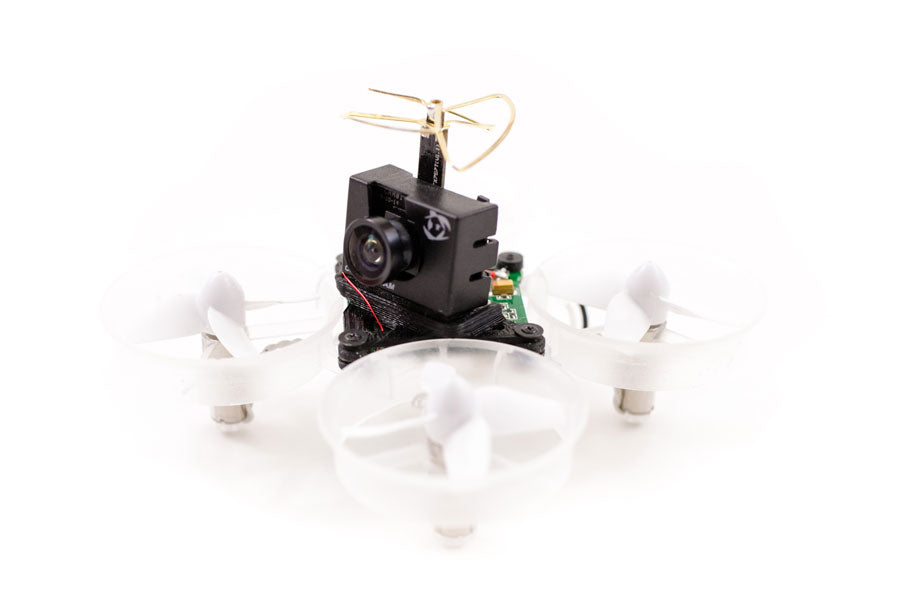 If you found this post helpful, it would be super cool if you purchased the components from my store or purchase items from my Amazon links. These posts are expensive and take a loooong time to make! The purchases make it possible for me to keep making them. Thanks in advance, I greatly appreciate it 🙂