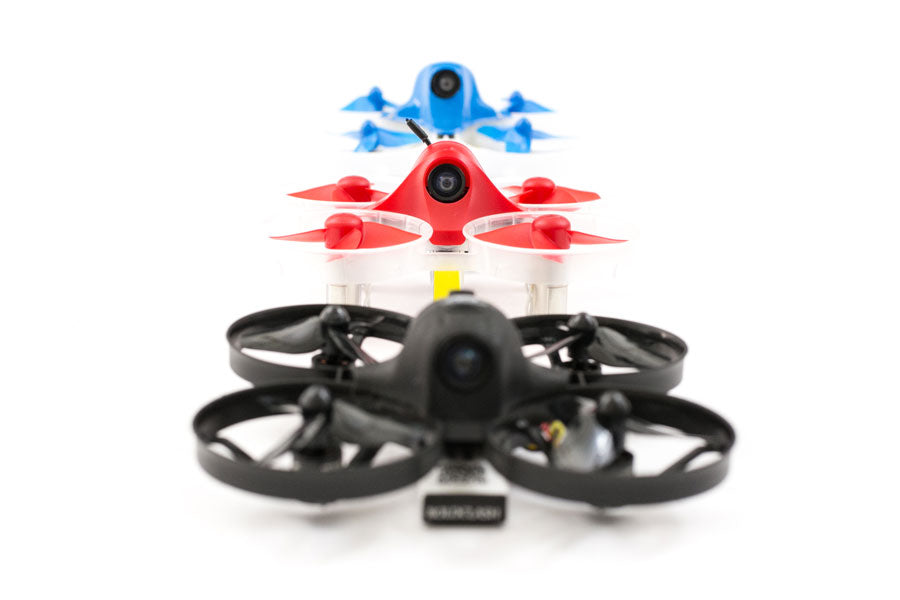 Best Tiny Whoop | Battle of the Whoops
Best Tiny Whoop | Battle of the Whoops
A search for the best tiny whoop. It's currently winter here and I've been looking for ways to get more stick time. 3″ Phukets in garage sessions are fun but it's still too cold! The next best thing is a Tiny Whoop. I've been testing three quads to find the best tiny whoop and I think I've found it.
Before we get into the reviews let me explain what a Tiny Whoop is for someone who isn't yet into the sport of FPV but would like to get started. A Tiny Whoop is a tiny quad usually in the 65-75mm range, weigh around 40g and has a built in camera and video transmitter. The best part about Tiny Whoops is they are so small and lightweight that they can be flown indoors! It's a great way to dip your toes into FPV racing.
The original 65mm Tiny Whoop was fun but I wanted something with more power and can fly in acro mode. The original Inductrix can fly rate mode but it's way too underpowered to do that. I'm looking at three of the best Tiny Whoops in the 75mm range. I'll be judging which one is the best Tiny Whoop based on three criteria – flight characteristics, price and fun factor.
* Testing was done in a big 40 yard indoor track. On a normal Tiny Whoop track you'll probably get longer flight times.
Inductrix FPV+
The original Inductrix Tiny Whoop has come a long way. It started as just a 65mm toy quadcopter with no camera to a 75mm full featured quad with bigger motors. The Inductrix uses 7x20mm motors on 40mm quad blade props. This makes it the most powerful Tiny Whoop in this bunch. It's even more powerful than the brushed motor Boldclash B06. The real selling point on the Inductrix FPV+ is what they call meow mode. It's their version of turtle mode. It lets you flip the quad over by reversing the motors from your controller. You can even change the rear RGB LED color from your controller.
Advantages: Powerful motors, meow mode, ability to change LED colors from the remote.
Disadvantages: Expensive, heavy, useless rate mode
Boldclash B06
The Boldclash B06 is the only tiny whoop in this bunch that uses brushless motors. Sounds powerful right, eh, so so. It has slightly more thrust than the BetaFPV Beta75. I really like that it runs on BetaFlight so setup is a breeze. You can tune the PIDS and set up all the usual features in Betaflight. It has a button on the canopy so you can easily change the VTX channel and band. It uses a big 1s 450mAh that gives you really long run times.
Advantages: brushless motors, long flight times, good flight characteristics
Disadvantages: fairly expensive batteries, drifts towards objects (more on this below), no landing gear
BetaFPV Beta75
The BetaFPV Beta75 is the cheapest of the bunch at $93. It uses 7x20mm motors on 40mm tri blades which produces good thrust. Its not as powerful as the Inductrix FPV+ but still very useable. The best part of the Beta75 is that it runs on BetaFlight with OSD! You can configure the Beta75 just like you do any regular quad running a Betaflight flight controller. Having BetaFlight OSD you can see your battery voltage, flight time and even tune your pids from your Taranis.
Advantages: price, BetaFlightOSD, super tough frame, uses the standard stick type tiny whoop batteries
Disadvantages: not as much power as the other tiny whoops
Flight Characteristics
The Inductrix FPV+ is by far the most powerful tiny whoop of the three. In angle mode (self leveling) it flies great but the weight can be felt in cornering. It tends to want to push out more than the other two. In rate mode (acro, full manual) it's nearly useless. The rates are way too high. The controls seems to go from 0-100 with just 25% stick movements. It feels like you're trying to control a crackhead on a balance ball. Yeah with enough tinkering you can probably tune down the rates in the Taranis but it's not worth the trouble (see why in the price section below).
The Boldclash B06 with the brushless motors flies great. Because it runs Betaflight, it was very easy to tune. I pretty much flew it with stock Betaflight PIDs with the rates turned way down. It has good balance between power and weight. Rate mode was very usable and fun. One thing I noticed on the B06 is that the vacuum effect is greater than the other whoops. What I call vacuum effect is when you fly too close to objects like walls or chairs, the suction from the props makes the whoop drift towards that object. Dont know why but I found the B06 stuck to walls more often than the other quads.
The BetaFPV Beta75 is a pleasure to fly. Out of the three it has the least thrust, just slightly behind the Boldclash. Just keep in mind big power doesn't always equal big fun. What it lacks in power it makes up for in fun. The BetaFlight OSD is just an awesome feature to have in a tiny whoop. I love being able to see my battery voltage, flight time and even RSSI in the display. My only grip is that it's slightly underpowered for serious acro flying. I'm sure after more stick time you'll get use to it.
Price
This one is easy, the BetaFPV Beta75 is the cheapest of the bunch at just $93. The Inductrix FPV+ $140 is crazy expensive for what you get. In fact, for less than the price of the Inductrix FPV+ at $140 you can get the BetaFPV Beta75 $93, 8 pack of 260mAh Hv batteries $27 and a 6 port HV charger with USB out $15 for just $135!
Fun Factor
To me this is the most important factor. Tiny Whoops are not meant to be going balls to the walls fast. They are meant for launching secret search and destroy missions to annoy your dog around the house. Or setting up a race track using chairs, seat cushions and appliances inside your house to race with your friends when the weather sucks outside.
The Inductrix acro mode is useless and Boldclash was just mediocre in just about every criteria. To me the best tiny whoop in this group is the BetaFPV Beta75. It didn't win in every criteria but excelled where it counts most, fun and price. It has a good blend of flight characteristic, features and good price. It runs on BetaFlight so it's super easy to set up. Here are my setup screens and PIDs.
Go pick up the best tiny whoop setup BetaFPV Beta75 and go have some immature adult fun.
Want a turbocharged Beta75? Check out the BetaFPV Beta75 brushless whoop!
Check out EMAX's new brushless whoop, the EMAX TinyHawk
If you found this post helpful, it would be super cool if you purchased the components from my store or purchase items from my Amazon links. These posts are expensive and take a loooong time to make so the purchases make it possible for me to keep making them. Thanks in advance, I greatly appreciate it 🙂